Specials and One-offs
I sometimes have some older model Sycorax violins I can sell at a lower price. These are sold cheaper, but they don't have the same warranty as the current full-price model, if these ones have any issues (I don't think they will) I will fix them or replace parts, but I will have to charge something for the new parts. Contact me to ask what I have.
International (non UK) customers please click here before ordering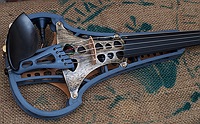 Special offer Sycorax Electric Violin £650 SOLD
This violin is sold, but I am leaving the link and gallery here for historical interest.
I may sometimes have other old models available at less than the full price, but you will have to ask.
This violin has a "distressed" look spruce top, a beech back, and gold coloured bolts.
It has a bright and lively tone with good bite.
In stock now