Specials and One-offs
I have some 2019 model Sycorax violins I am selling cheap. These were built using the old bolt on neck design, but I then decided to glue the necks on. These are sold cheaper, but they don't have the same warranty as the current model, if these ones have any issues (I don't think they will) I will fix them or replace parts, but I will have to charge something for the new parts. See the blog (soon) for more info on this deal, or contact me.
I have several instruments availble at special prices, please contact me for details of ones I haven't listed here yet.
International (non UK) customers please click here before ordering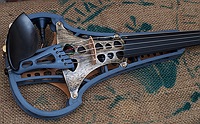 "Special offer Sycorax Electric Violin £650
This violin has a "distressed" look spruce top, a beech back, and gold coloured bolts.
It has a bright and lively tone with good bite.
In stock now